Our Values and Priorities
Values
Our guidelines for conduct and behavior in fulfilling our mandate include: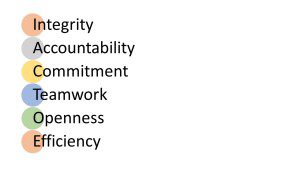 Integrity: We are committed to acting in an ethical, honest manner in all our relationships with the people we serve, work with and who rely on us. We will do our best to keep our commitments and fulfill expectations.
Accountability: We are committed to measuring, achieving and reporting results, and to using money and resources wisely.
Commitment: Through perseverance, hard work and determination, we are committed to bringing hope to the communities we serve.
Teamwork: We work with team members, colleagues and partners to solve problems and share responsibility. We commit to effective partnerships between volunteers and the local communities, and our supporters.
Openness: We work to ensure a transparent decision-making process, and develop effective communications among the teachers, parents, Board members, supporters and the wider community.
Efficiency: We will make careful, prudent and effective use of the hard-earned assets and resources entrusted to us.
Priorities
High academic standard, spiritual and character development
Monitor and support regular attendance
Obtain short term sponsorships for teachers and students
Improve student-teacher ratios
Develop leadership skills
Work towards financial sustainability and collaboration